Philips introduces the 9.4GB double-sided DVD+RW recording media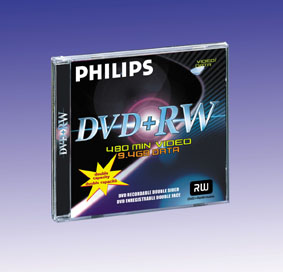 Complementary to the DVD-recorders that will be available at the shelves as from the IFA show in Berlin in August onwards, Philips is introducing top quality recording media. In addition to the already introduced single-sided 4.7GB DVD+RW discs, Philips now announces double-sided DVD+RW discs, with a capacity of 9.4 GB, enabling recording times of up to 8 hours per disc, depending on the choice of the recording quality.

One disc for both video and data use
With DVD+RW, the same disc can be used for both video and data recording.
The large 9.4 GB capacity is ideal for offloading PC data when the harddisks are filled up with e.g. homevideo's or digital camera pictures.
Philips DVD+RW video and data recording media play on the vast majority of existing and future DVD-video and DVD-ROM players and are suitable for video recordings in MPEG2 format. 9.4GB is equivalent to as much capacity as that of fourteen standard CDs.

Royal Philips Electronics of the Netherlands is one of the world's biggest electronics companies and Europe's largest, with sales of EUR 37.9 billion in 2000. It is a global leader in color television sets, lighting, electric shavers, color picture tubes for televisions and monitors, and one-chip TV products. Its 212,390 employees in more than 60 countries are active in the areas of lighting, consumer electronics, domestic appliances, components, semiconductors, and medical systems. Philips is quoted on the NYSE (symbol: PHG), London, Frankfurt, Amsterdam and other stock exchanges. News from Philips is located at www.news.philips.com

About The DVD+RW Alliance
Hewlett-Packard Company (NYSE: HWP), MCC/Verbatim, Philips Electronics (NYSE: PHG), Sony Corporation, Ricoh Company Ltd. and Yamaha Corporation, the developers, promoters and leaders in CD-R and CD-RW technology, are developing the next generation of optical storage technology with the DVD+RW format. The companies promote the universally compatible, rewritable DVD format that enables true convergence between personal computing and consumer electronics products. DVD+RW discs written on a DVD+RW recorder can be read and played on the vast majority of existing and future DVD-Video players and DVD-ROM drives. Thomson Multimedia (NYSE: TMS), manufacturer of RCA entertainment products, recently joined the companies to actively support and promote DVD+RW. More than 25 additional companies have formally pledged support for DVD+R and DVD+RW technology.